Ledbury Carnival 2007 - Programme of Events
---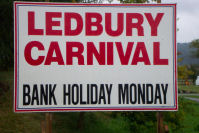 Carnival Programme
Fairy Tales and Nursery Rhymes
Monday 27th August 2007 : 11am to 6pm

Stalls in the High Street, Giant Inflatable in St Katherines Car Park, Fun Fair in Bye Street/St Katherines, Flower Show,

Carnival Procession - 12 noon to 1:15pm
Will consist of Marching Bands, Colourful Floats and Fancy Dress
From Ledbury Rugby Club to Ledbury Primary School

High Street Stage Featuring Hereford Hospital Radio

12pm Hereford Hospital Radio
1.30pm QUEEN (Tribute Band)
3:30pm Peter Wyton - Stand Up Poet
3:45pm Bob's Full House
5:30pm Grand Prize Draw




St. Katherine's Car Park Stage

1:30pm Peter Wyton - Stand Up Poet
2pm Lois Page - Singer
2:45pm Spin Dwyer's - Folk Duo
3:30pm Leadon Vale Line Dancers
4pm Lois Page - Singer
5:00pm Leadon Vale Line Dancers
5:30pm Grand Prize Draw (Relayed from High Street)




---

Town Crier
Carnival Princess and Her Attentants
Family Funfair

---

Park and Ride available from the Rugby Ground to Bye Street
*Pictures come from previous year carnival
Programmes are available by going to Ledbury Tourist and Information Centre next to the Market House, The Texaco garage in the Homend and various location around town. There will be draw tickets at £1 each, available on the day and on the Saturday Mornings near the Market House leading up to the carnival.
Programme also available as pdf. Click here to view (6MB).
Road Closure from 7am on Bank Holiday Monday to include the High Street, Bye Street, New Street from Somerfield to Top Cross, the Homend from Eager Electrical to High Street.
During the procession, the following roads will be closed temporarily to traffic. (Approx times)
12:00 - 12:10 : From Rugby Ground to Countrywide Roundabout
12:05 - 12:15 Countrywide Roundabout.
12:10 - 13:00 The Whole of New Street to Somerfield. No through road to Worcester along New Street
12:40 - 13:00 Top Cross from Worcester to Gloucester road (No more than 15 minute delay)
12:45- 13:10 The Homend from Tesco to the High Street
12:50 - 13:15 Orchard Lane from Tesco to Ledbury Primary
---
---
You're Visitor Since 1 December 1996
This Page Last Updated
16 July 2012
To email me, please click here