Ledbury Carnival 2007 : Fairy Tales and Nursery Rhymes
Ledbury Carnival 2007 took place on Monday 27 August 2007. The 2007 event was the 33rd Ledbury Carnival and my 10th year covering the event. The theme was Fairy Tales and Nursery Rhymes. Thanks to Florence Chan and Chris Poole who helped me with taking photos.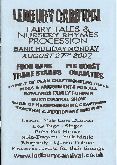 Click here for Programme of Events on the Day 2007
Click here for the carnival programme
Thanks for Chris Poole who also helped take photos down at the Rugby Ground.
Click on left or right arrow to nagivate or click on the links on the left*
Other News
We are looking for more volunteers. If you can help, please contact us at info@ledburycarnival.co.uk