Ledbury Carnival 2023 : Countryside Fun
August Bank Holiday Monday 28 August 2023
www.ledburycarnival.co.uk
Welcome to the Official Ledbury Carnival website. Here you will find pictures from past carnivals.
Please navigate through the site using the links on the left hand side column and below
This years theme was Countryside Fun
Photos for 2023 are now here.
I have sorted out the 450 photos and have it spread over 23 pages.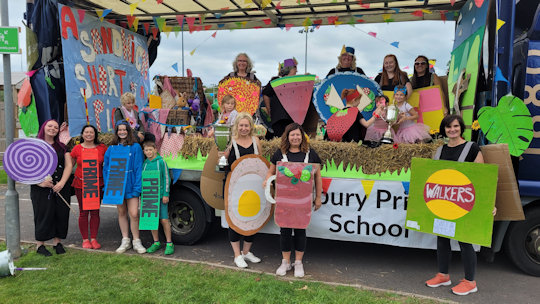 The overall winner is Overall Winner : A sandwich short of a pincic - Ledbury Primary School
Please click here for the 2023 pages.
Latest News
We are now raising funds for our 50th Carnival in 2024
The cost to close the road by the Rugby Club, Full Pitcher Roundabout and the Tesco traffic lights, along with a rolling roadblock in New Street and the Homend and manning the barriers at the Top Cross and Bank Crescent junctions, is £7500, an increase of over 55% over previous year.
We NEED your HELP to ensure we have a Parade next and future years, after all, what is a Carnival without a parade???
Our Chair, Johnny Chan is launching a 'GO FUND ME' which is located here https://www.gofundme.com/f/ledbury-carnival
With so many similar events dying out over recent years, we do not want our Carnival to be added to the list.
Please get in touch at contactus@ledburycarnival.co.uk for further information or visit us at the Carnival Stand on the day.
HELP us SAVE our CARNIVAL
*** Our Go fund me page is https://www.gofundme.com/f/ledbury-carnival ***
Carnival Princesses 2023
This year Carnival Prince and Princess and her attendants.
The prince is Thomas (age 10). The princesss is Lilibeth (age 10). Her Attendants are Anavae (age 9) and Olivia (age 9)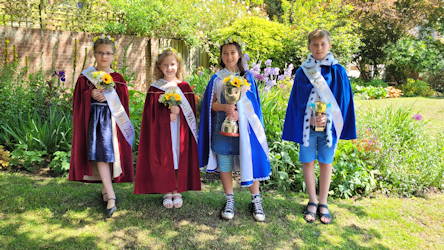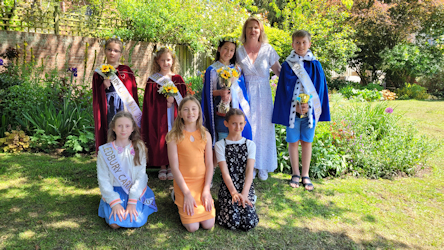 Links to previous years
2022 - Ledbury Blooms
2021 - Party in the Car Park
2020 - Virtual Carnival
2019 - A Nautical Carnival
2018 - Ledfest

2017 - A Novel Idea
2016 - Heroes and Villains
2015 - Step Back in Time
2014 - 40 Years of
Ledbury Carnival
2013 - West End comes to Ledbury
2012 - Great Britain 2012
2011 - Theatre and Pantomime
2010 - Transport and Transport
2009 - TV Carnival
2008 - Countries of the World
2007 - Fairy Tales
and Nursery Rhymes
2006 - Music
2005 - Historic Events
2004 - Hollywood
2003 - Country Carnival
1998 - Bungee
Other News
We are looking for more volunteers. If you can help, please contact us at info@ledburycarnival.co.uk