Ledbury Carnival 2008 : Countries of the World
Ledbury Carnival 2008 took place on Monday 25 August 2008. The 2008 event was the 34th Ledbury Carnival and my 11th year covering the event. The theme was Countries of the world. Thanks to Chris Poole and Andy Ward who helped me with taking photos.
This year was different for me. I have not taken photos at the Ledbury Primary School bridge this year. Instead taking them outside Tesco. Also a sneak preview setting up on the Sunday.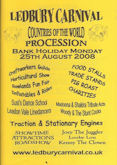 Click here for Programme of Events on the Day 2008
Click here for the carnival programme
Thanks for Chris Poole and Andy Ward who also helped take photos down at the Rugby Ground.