Ledbury Carnival 2006 : Music
Ledbury Carnival 2006 took place on Monday 28 August 2006. The 2006 event was the 32nd Ledbury Carnival and my 9th year covering the event. The theme was Music. Thanks to Florence Chow (from Guangzhou, China!) who helped me with taking photos.
We had a visitor from Swansea visiting the 2006 carnival. Did you travel far to get to the carnival. Let me know.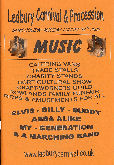 Click on left or right arrow to nagivate or click on the links on the left*
Other News
We are looking for more volunteers. If you can help, please contact us at info@ledburycarnival.co.uk