Ledbury Carnival 2005
---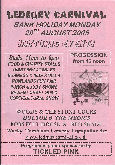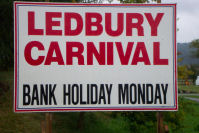 Ledbury Carnival 2005 took place on Monday 29 August 2005. The 2005 event was the 31st Ledbury Carnival. The theme was Greatest Events in history. I had a few friends helping me take photos and video footage. Many thanks to Linda Richards and Alison Pearson for helping me on the day. There will be an official Ledbury Carnival 2005 DVD to be released in November 2005. On sale on this site.
Yet again I was at 3 locations during the carnival procession. Ledbury Rugby Ground at 11:30, On the stage at 12:30, 12:50 at Ledbury Primary School Bridge. As always there was a running commentary by Hereford Hospital Radio when the float went past the town. At least the weather hold until around 4pm when it started to rain a bit.
The carnival prize draw returned to 2005 after a year break in 2004. Top prize was £100. Other prizes included a TV/Video combi, a portrait, carnival DVDs
There are a collection of photos taken on my digital camera and digital camcorder. There are repeat photos of the procession but from different angles. Happy viewing over 450 photos!

---
You're Visitor Since 1 December 1996
This Page Last Updated
17 July 2012
To email me, please click here