Ledbury Carnival 2001 : Flower Power
Ledbury Carnival 2001 took place on Monday 27 August 2001. The 2001 event was the 27th Ledbury Carnival. The theme was Flower Power, in conjunction with Britain in Bloom competition. The only different compared from the other years, is that I took only a digital camera and no camcorder. I was at 3 locations during the carnival procession again. I was at MSF at 11:30, The High Street at 12:35 and Ledbury Primary School at about 13:10. On this and the following few pages, are a collection of digital images of the Event. The weather was the best and reported the hottest August Bank Holiday in 10 years. Not a cloud in the sky (well a few at least).
The main acts in the 2001 carnival were pop group Red Alert and Merseybeat.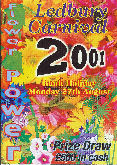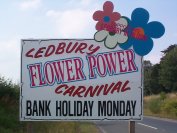 Click on left or right arrow to nagivate or click on the links on the left*
Other News
We are looking for more volunteers. If you can help, please contact us at info@ledburycarnival.co.uk