Ledbury Carnival 2009 : TV Carnival
Ledbury Carnival 2009 took place on Monday 31 August 2009. The 2009 event was the 35th Ledbury Carnival and my 12th year covering the event. The theme was TV Carnival.
Tried something different this year. As the carnival draw stall was opposite the main stage, gives me a perfect opportunity to get view from a different side. No Ledbury Primary School Bridge this year, even though I could have got there!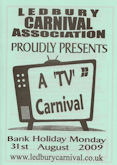 Click here for Programme of Events on the Day 2009
Click here for the carnival programme
NEW : Videos from the 2009 carnival from the Official Ledbury Carnival You Tube Channel
Click on left or right arrow to nagivate or click on the links on the left*
Other News
We are looking for more volunteers. If you can help, please contact us at info@ledburycarnival.co.uk